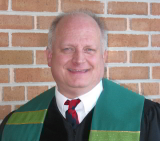 Year in and year out, we start out the month of January with the last five days of the Christmas season and the celebration of Epiphany. Normally, I'd begin the January issue of the Chapel Chimes with some reflections on the start of a new year, but this year I thought that I'd take a different approach and share some thoughts that came to me during the performance of "The Living Nativity" back in the middle of December.
It's funny how certain thoughts come to mind at certain times. This year marked the seventh production of "The Living Nativity." I've been fortunate to have portrayed one of the Magi during that seven year stretch, and the nature of the story or the staging doesn't change much—except that this year we actually had a King Herod physically present in the drama. There is that scene where, after the Magi have offered their gifts to the Christ Child, they return home—not through Bethlehem and a meeting with Herod—but by a different way.
I've been familiar with the telling of that story in Matthew's gospel since I was a small child and it's been part of those seven years of staging "The Living Nativity." Yet, for whatever reason, when we had a King Herod on stage, the words struck me in a slightly different way. Yes, we would not physically return over the same path by which we had arrived, but there seemed to be more to it than that. Perhaps the Wise Men returned back a different way emotionally and spiritually, as well, after having made that pilgrimage to see the child. It would be hard to imagine that the journey hadn't changed them in some way, and that they would never look at things in quite the same way as before.
In that moment during the production, the thought came to me: Wouldn't it be a wonderful thing if you and I returned on our way back from our celebrations of Christmas in a different way, too? Wouldn't it be great if our celebrations of Christmas opened up our lives to greater understanding, greater kindness, and greater love? Wouldn't it be great if we didn't just go through the motions this year?
It is my hope that this year's celebration of the twelve days of the Christmas season may transform your hearts and minds through the light of Christ. It is my hope that you will find greater joy, gratitude, and love in this season. It is my hope that you, too, will go home a different way.
May you find blessings in these last days of Christmas, Epiphany and the start of 2016.
Your servant in Christ,
Rev. Jim Hoppert