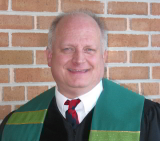 "But God raised him up, having freed him from death, because it was impossible for him to be held in its power."  Acts 2:24
As I think about these first weeks after Easter Sunday, I am struck by the image of a Jesus who is continuously on the move, and moving ahead.  When you get right down to it, Easter is all about the Jesus who cannot be stopped.
Death thought that it could stop Jesus, but it was powerless to do so.  The tomb could not hold him back.  Those who were responsible for Jesus' death, were unable to stop him.  Caiaphas, Pontius Pilate, and the full force of Roman might could not put an end to his work.  Locked doors and fearful hearts were not enough to prevent his entrance.
Jesus is on the move during the days of Easter.  He is moving past the limits of being held to just one time and place.  He is moving towards glorification.  He is moving towards the timeless and the eternal.
And as Jesus moves ahead, he invites us to come with him.  He invites us to put aside our paralyzing fear and anxiety and journey with him.  He invites us to become servants in the service of others.  He asks us to embrace the full cost and joy of discipleship.  He asks us to trust in the promises of life eternal resurrection and the hope of resurrection.
Jesus moves on ahead, but he invites us to follow in his footsteps.  Easter is not a stationary time in our lives of faith, but it is a time to move ahead, and Jesus is with us.
May these Great 50 Days of Easter be a time of spiritual growth for you and those you love.
Your servant in Christ,
Rev. Jim Hoppert